Shaq Appeal, Cashing In On Endorsements!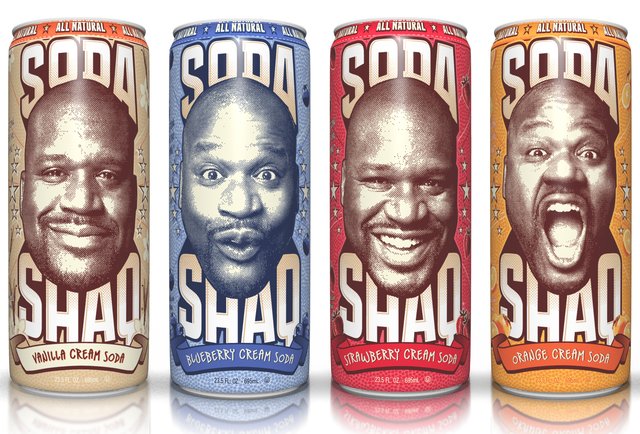 AriZona Beverages has joined Reebok, Icy Hot/Gold Bond, Buick and Zales in cashing in on Shaq's ability to reach consumers.  Shaquille is not only an NBA veteran but a law enforcement agent, actor, video game martial arts master and now he's promoting four flavors of Shaq Cream Soda available in blueberry, orange, strawberry and vanilla.
These 23.5 ounce cans of soda are said to have all natural ingredients that include citric acid, vanilla, honey and vanilla extract from Madagascar. Ambiguous fruit and vegetable juices are included  for flavor and color. Each can shows a different Shaq face. They sell for 99 cents and can be purchased 7-Eleven stores.  I think Strawberry Cream taste the best. 
Love & Basketball 

He just signed a deal with Jay-Z's Roc Nation Sports and next he'll be signing a marriage license. Oklahoma Thunder superstar Kevin Durant has popped the question to high school friend WNBA's Minnesota Lynx point guard Monica Wright. The two grew up and playing ball in the Washington D.C. area. They also crossed paths in 2006 during the McDonald's High School All-American Basketball Games as they were both High School All-Americans.
The "love & basketball" story-line of their engagement was made reference to by the writer and director of the movie, Gina Prince-Bythewood. Via Twitter, she stated that Monica shared the same name (Monica Wright) as the character played by Sanaa Lathan in the film. Kevin may have hinted at their potential relationship back in 2011 as he sent out a tweet saying "Or maybe I need a basketball playing girlfriend…hmmm lol…monica wright where r u (love and basketball)." Lets hope that all is fair in "love & basketball" with Kevin and Monica.
 Prince Harry Whales plays Baseball in Harlem!
Prince Harry shows he's a good sport, plays with the kids, sharpened his skills and has fun!  Currently on a U.S. tour, he stopped by Harlem's RBI baseball field for a baseball clinic launch of a new partnership between the ball field and the Royal Foundation. He participated in drills and learned from Yankees Slugger Mark Teixera (seen below) as he gave instruction and encouragement.
Gettys Image

The Williams sisters movie is coming out and it tells the real, AMAZING story. Ever since Venus and Serena Williams started playing in tennis tournaments, they've provoked strong reactions – from awe and admiration to suspicion and resentment. They've been winning championships for over a decade, pushing the limits of longevity in such a demanding sport. How long can they last? In Venus and Serena, we gain unprecedented access into their lives during the most intimidating year of their career. Over the course of 2011, Venus grappled with an energy-sapping autoimmune disease while Serena battled back from a life-threatening pulmonary embolism. Neither Venus nor Serena let their adversities hold them back. They drew their greatest strength from each other. Now their fans can see their story on the BIG screen.
69 years before Robinson there were more
Jack Roosevelt "Jackie" Robinson was named after President Theodore Roosevelt who died twenty-five days before Robinson was born. Jackie Robinson, one  of the most important baseball players to ever play, out-performed men of his generation. Although not the first black to play in the minors or majors, he was the most celebrated. The fact is, in 1878 John "Bud" Fowler played on the minor league team, the Lynn Live Oaks. (seen below)
On May 1, 1884 Moses Walker made his professional debut with the Toledo Blue Stockings, a major league team.
On April 15, 1947, 66 years ago today, Jackie Robinson made his debut for the Brooklyn Dodgers. He was hand-picked by the team because of his proven ability while playing in the Negro League, and because they felt he was "the Negro who could handle the pressure" of breaking Major League Baseball's long-standing color barrier. His military and education background led them to this conclusion.
While in the military from 1942-1944, Robinson met boxing legend Joe "The Brown Bomber" Lewis who was the World Heavy Weight Champion. Lewis served in the military from 1942-1945. Lewis took time out to offer direction and his advice. Lewis had long conversations with Robinson that detailed the horrendous racial back lash he experienced being the first black heavy weight champion of the world. Coming from the popular Kansas City Monarchs (1945), a popular Negro League Baseball team, then the Minor League's The Montreal Royals (1946) , Robinson was already well-known.
When Robinson signed with the Brooklyn Dodgers (1947-1956), it marked his making it to the Majors. Jackie Robinson exceeded all expectations in spite of the adversities.  He won the Rookie of the Year award in 1947, the National League MVP in 1949 and played in six All-Star games. His life time average was a 0.311 and Robinson was elected into the baseball's Hall of Fame in 1962. Just ten years later, he passed away in 1972 at the age of 53. His son Jackie Robinson, Jr. died in a car accident in 1971.
Today Jackie's widow Rachel and his remaining children, Sharon and David, plan to attend the recognition ceremony at the Dodgers Stadium game with a pregame start time of 6:50 p.m. during which a video tribute to Robinson is being shown. The ceremony, is expected to include Robinson's teammate, 1956 National League MVP and Cy Young Award winner Don Newcombe.  The late Hall of Fame catcher Roy Campanella, will also be honored by the Dodgers.
With his grace, strength and calm demeanor, Jackie Robinson made the game of baseball better for all races. The SET family salutes him and his family.
——————————————————————————————————————————————-
Should Reebok Have Fired Rick Ross?
Reebok has dropped Rick Ross  following heavy criticism.
Ross' "pro rape" lyrics on Rocko's song "U.O.E.N.O." which was released in January. In Rocko's song, Ross raps about giving a woman the popular drug MDMA, known as Molly, and having his way with her. Rick Ross' lyrics say, "Put Molly all up in her champagne, she ain't even know it, I took her home and I enjoyed that, she ain't even know it,"
In their released statement,  "Reebok holds our partners to a high standard, and we expect them to live up to the values of our brand. Unfortunately, Rick Ross has failed to do so." The company says it does not believe that the Grammy-nominated rapper "condones sexual assault," but the company is not happy with how he has handled the situation.
Ross  made a formal statement in a tweet last week apologizing, saying his lyrics were misinterpreted. It came the same day UltraViolet  protested outside of one Reebok's stores in Manhattan.  They "are a community of women and men fighting to expand woman's rights, and combat sexism everywhere" as stated on their website. Reebok also stated, "We are very disappointed he has yet to display an understanding of the seriousness of this issue or an appropriate level of remorse…At this time, it is in everyone's best interest for Reebok to end its partnership with Mr. Ross."
In an interview with Hot 97 radio Rocco said he his removing Ross' rap from his song. He said the backlash has "put him a position where I have to change" the song.
UltraViolet said in a issued statement Thursday they are "thrilled to hear that Reebok is joining the fight against rape culture and dropping Rick Ross."  The statement continued with "This sends a strong message that rapping about drugging and raping an unconscious woman is not only morally wrong, but has real consequences."  
Ross' Album "God Forgives, I Don't," earned him a Grammy nomination for best rap album. Four of his Five of his CD's reached Gold status, selling 500,000 units.  His voice has also been heard on songs with  Kanye West, Drake, John Legend and Nicki Minaj. 
Let us know what you think on www.facebook.com/SetMagazine